M&M Trans corp. has made best efforts to meet customer satisfaction based on years of experiences

and know-how in vehicle transportation and built fundamental for the logistics company specialized in

vehicle transportation by sharing business capabilities with a parent company, MIGHT & MAIN.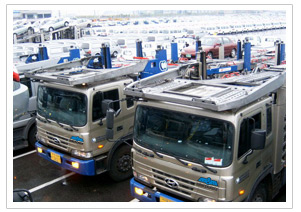 Ssangyong Motors
We have been appointed as a local transportation partner in 2010 and delivered to nationwide.



Transportation for domestic delivery
Import car brands
We have transported vehicles for 7 different import car brands since 1987 starting with Mercedes-Benz
(Hansung Motors), been doing our best to satisfy customers' needs and service expectation through
operating CS managers.



Brands : Mercedes-Benz, Porsche, Honda, Volvo, Jaguar, Land Rover, Cadillac

Other vehicle transportation


Import car bonded transportation : transport from ports (Pyungtaek, Incheon, Busan) to bonded
warehouses


Golf cart transportation : transport golf carts from its warehouse to country clubs


Delivery on customers' request : deliver vehicles from showrooms to designated places
(ex. After market shops)


Premium transportation service : provide special transportation service for customers who needs special
warehouses


Others : provide prompt and safe transportation services on about 100 small to medium size
customers' orders (ex. secondhand car dealers, forwarders) and personal orders